The large property owner has since its IPO more than ten years ago grown to one of the largest developers on the Chinese mainland. However, its aggressive expansion strategy has mainly been fueled by debt. The company has liabilities to over two hundred fifty financial institutions, also in the United States. The high-yielding Chinese company holds over $300 million U.S. dollar in debt, with creditors all over the world. Last week the company reported that it could potentially default on some of its debt. In recent months the company has spun-off many of its side-businesses in an effort to raise enough capital to prevent such a crunch. However, it hasn't been enough to prevent a major crash of this Chinese giant, once ranking as one of the 200 largest companies.
Unlike The United States, The Chinese Government Tries To Maintain Control
Xi Jinping, China's president, has targeted unsustainable growth in recent months as some companies like Evergrande were posing a great treat to the Chinese financial system. After Alibaba and Tencent lost double digits to the Chinese crackdown of tech giants, the property sector is now feeling the pressure of the government. It should be noted that both efforts of the Chinese government should be seen as a sign of strength, as Xi Jinping seems to be aware of the financial and political risk large indebtedness and big tech could pose to its leadership. The current situation in the United States is completely different, as big tech undoubtedly has a large influence on its government, while the financial sector is too-big-to-fail. Their Chinese counterparts are not afraid to let large partly state-owned companies default, which has increased pressure on Evergrande to clean-up their balance sheet.
Firm Governmental Hand Has Slashed Boomed Economy
In recent months commodity prices have surged to all-time-highs, but the Chinese crackdown on private business has cooled off some commodities. Iron ore is back at more acceptable levels, while also copper and rare-earths have lost some of its initial gains. If the default of the Evergrande Group actually will occur, this will have tremendous implications for all businesses in China as foreign capital will be pulled out of the country. Also it is unclear what exposure Western financial institutions have to the Chinese emerging market, but a collapse of the Chinese financial boom could be well-ahead. This will pose a huge threat to the global economy as we have seen how interrelated global financial systems are after the last financial crisis in 2008. But unlike then, now the government seems to be less inclined to bail out these giant companies, but rather lets creative destruction do its work. That is why investors have been dropping shares and bonds of Evergrande ever since the first signs of a potential collapse. However, this also means that the bankruptcy of Evergrande might become a self-fulling prophecy. The Golden Investor believes bailing out companies that are deemed to fail is not worth it, as these companies should be held responsible for their own bad financial situation, and not the tax payer.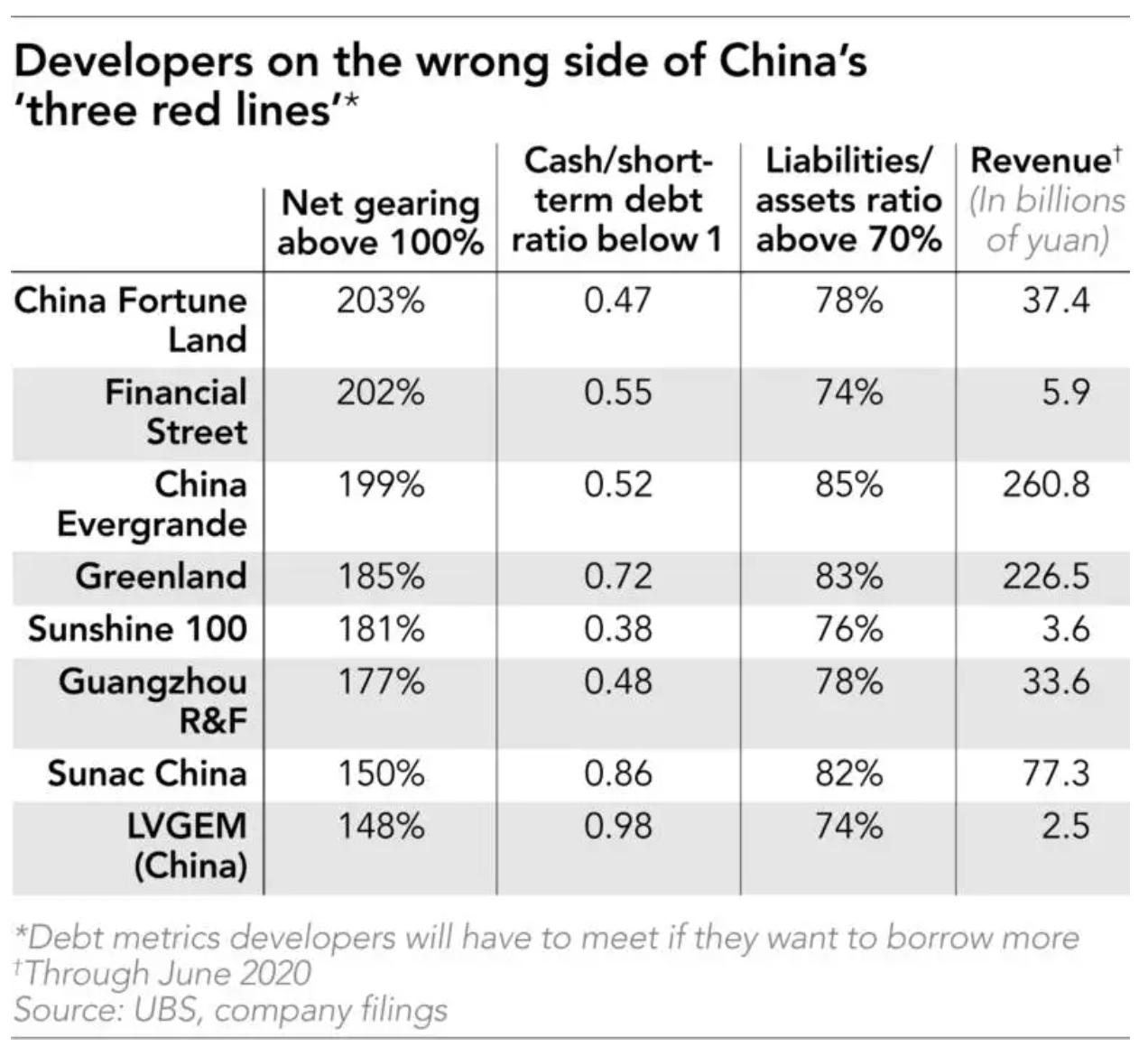 Other Developers Start Feeling The Pain Too
Other Chinese property developers are enduring the pain as investors dump shares amid rising concerns of systemic risks within the Chinese economy. The only reason why Evergrande has not yet defaulted is because it has gone on a selling spree, extended loans and desperately attracted short term investors to prevent an immediate collapse. The average sales price for its properties fell 26.3% to 7,130 yuan from 9,669 yuan per square meter, these bargain sales will put other developers also under pressure. However, it is not likely that the Chinese government will let the whole property market fall, so slight support might come. Whether Evergrande will survive remains to be disputed, but it seems that the company will most likely continue to crash down.
Disclaimer: The writer of this article doesn't hold China Evergrande Group (3333.HK) stock, this article should not be interpreted as investment advice or anything like that.
Bibliography