As central banks start unwinding their immense quantitative easing programmes and inflation keeps on soaring, the tech bubble seem to be over and losses are likely. However, IQE could be an exception and a good potential holding for investors looking to keep some part of their portfolio exposed to this booming sector. Global trends and adoption of technology pushes demand for semiconductors, the corona crisis has been a catalyst for this process. After initial lockdowns demand for semiconductors and complementary products has increased and outpaced supply. Where large companies like ASML (ASML:AEX) and Taiwan Semiconductor Manufacturing (TSM) hold key positions in the semiconductor supply chain, IQE could find its own niche as R&D-heavy player in the wireless and photonics field.
IQE, which makes semiconductor wafers for chips used in Apple (AAPL) products, recently announced profits could be lower than in 2020 as demand for smartphones went down, while the 5G rollout is still in its beginning phase. Two weeks ago IQE projected a potential 40% plunge in its annual core profit, as the British firm's smartphone-making clients place fewer orders due to supply chain issues, driving its shares 20% lower. However, this also means the company now is trading at a discount. And as governments worldwide, including the Biden Administration, have made this one of their top priorities better times could be ahead. Despite the announced increase in production in H2 2021, semiconductor companies continue to suggest that these tight circumstances could extend well into 2022. So investors could best gradually increase their position over the course of the next months, as the disruptions can last over time.
Transitory Supply Chain Disruption Could Be Buying Opportunity
IQE's strong cash position makes it likely that this stock will rebound once the disruptions are over. Note that many markets that IQE is targeting with its products have yet to reach their full potential, and thus so is IQE's stock price. However, some analysts point to the oil crisis of the 1970's that turned the world on its neck as global changes caused major inflationary pressure. Currently, inflation can be partly explained by supply chain disruptions and supply and demand dynamics, and partly due tremendous amounts of liquidity pumped in markets by central banks. Interestingly, the latter is now reversed as even FED-chairman Jerome Powell now has admitted he made a policy mistake by calling inflation "only transitory". However, this tightening next to the lasting supply chain disruptions could pose a huge setback to the now booming tech sector. As IQE has already adjusted their profit expectations, the current share price perfectly reflects the tight situation and could therefore be a buying-opportunity for those who think current disruptions will not last long anymore.
3D Sensing Equipment And Further 5G Rollout Future Cash-Cows For IQE
IQE's VCSEL technology could play a major role in future technologies that more and more rely on real-life scanning of objects to operate. IQE's technology is at the heart of multiple target detection, identification, tracking, and border protection systems. The company is focusing on the expansion of the Internet of Things where interconnection of devices will play an essential role in society. It's innovative products are of top-notch quality, their tight relationship with Apple signals quality-excellence within this competitive market.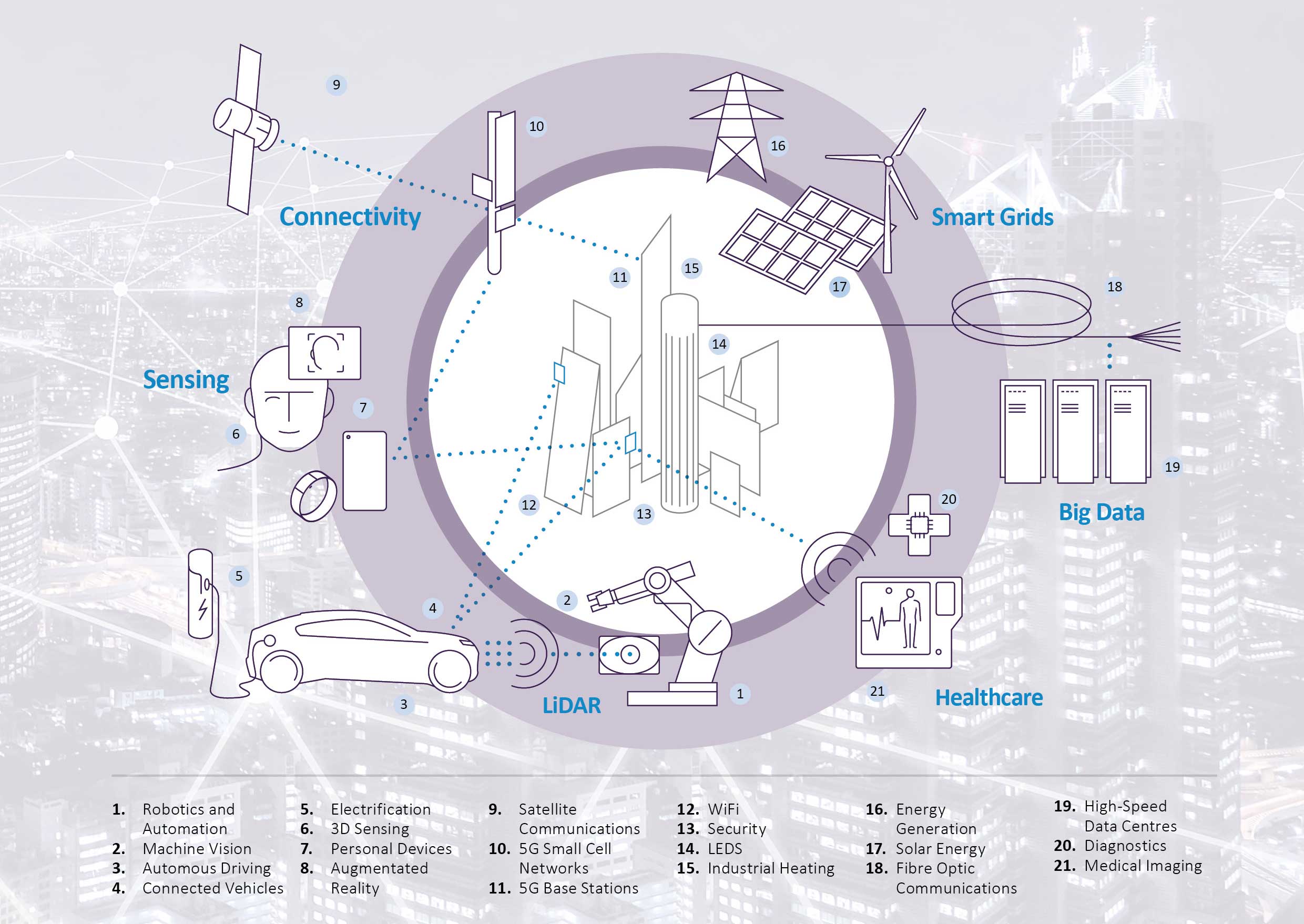 On the short run a re-surge of 200MM wafer production could push IQE's profits up, depending on market conditions. However, the immense potential of photonic technology can go beyond all imaginations. However, IQE is not the only semiconductor company out there and picking a winner is hard, but considering their quality standards and large R&D investments, new innovations can be expected boosting profits on the long term for shareholders.
Disclaimer: The writer of this article holds IQE (IQE:LSE) stock, this article should not be interpreted as investment advice or anything like that.
Bibliography